FoggyLog
Thu Nov 18th 2004 20:47:01: Leatherman Wave 2004 compared with the original Wave
Today I received my new Leatherman Wave 2004, and here are some photos of it compared to an old Wave (which I'm about to sell!).
The Wave 2004 is on the left in all photos
Firstly the leather pouches: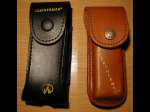 The two tools together: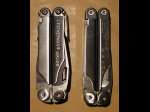 The two tools open: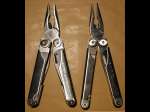 The scissors and screw drivers. The 2004 Version has a screwdriver bit, which you can swap round. One end has a small flat head and the other has a small crosshead.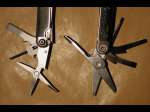 The cross head driver and can opener. Again the 2004 has a reversable bit. This one has a crosshead one end and a medium flat head the other end.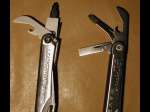 On the 2004 all the screwdrivers etc lock. Here is a closeup of the locking mechanism: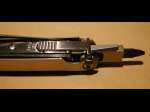 The blades on the tools: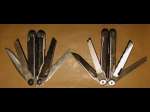 In summary:
All the blades/drivers on the 2004 lock open
The one handed blade opening on the 2004 is smoother
The 2004 has one extra screwdriver over the original (the small crosshead) and it has a ruler on it, however it doesn't have a lanyard attachment. It seems this is something you have to pay extra to buy which then clips on.
Judging from the instructions (which covers the Wave, Charge XT and Charge XTi) the Wave 2004 is the same as the Charge XT, except for the material used for the handle.
Which do I perfer? The Wave 2004 of course ;-)
Update:
As requested below, here is a photo of the ruler on the 2004: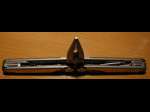 You can just about make out the graduations along the edge of the tool - inches on one side and cm on the other. It's 200mm (8") long