FoggyLog
Sun Jan 14th 2007 23:41:13: Mongoose Teocali 2005 Frame
This morning I went for my first ride of the year in Thetford. For various reasons (mainly the weather) I'd not managed to get one before now, however I'm very glad I did. During the ride I started to get a creaking/cracking sound from my Mongoose Teocali Comp 2005. Despite looking a couple of times I could not work out where the noise was coming from, however it gradually got worse during the ride. The ride ended, we had tea and cake and then went home.
As I unloaded my bike from the car at home I realised where the noise was coming from - the frame has cracked and is basically knackered :(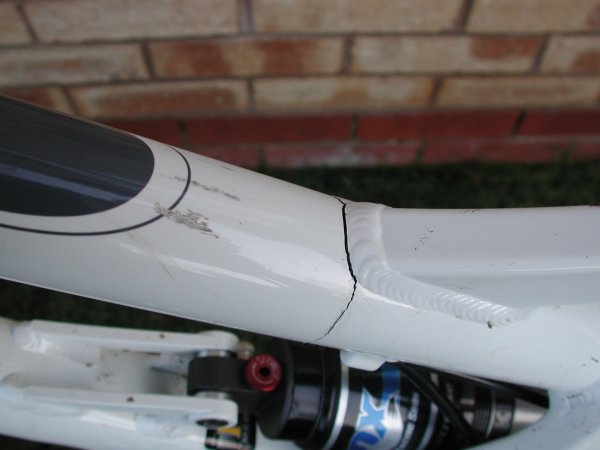 I rushed in to find the receipt as I could remember I brought it in January last year and it had a 12 month guarantee. Eventually I found the receipt... 15th Jan 06... I'm very glad I went for today's ride!!
I phoned the bike shop (Pauls Cycles) to be told to remove as many bits as I can from the bike and return it via Royal Mail. (Does anyone know the legal situation on postage costs in this case? They say it's down to me, however people like Dabs and Scan cover the costs when you return something).
So yes... I'm not a happy bunny. At least I'll get a brand new frame with a new 12 month warranty (I would hope!) - I see the 2007 version of the Teocali frame is slightly different in the area where mine broke. I hope the latest paint jobs will match my red blingy bits :). Also from reading one of the reviews here it seems I'm not the only one with a broken frame... not a good sign for the bike's reliability
If you are reading this because your Teocali frame has cracked, then please leave a comment or send me an email - I'm interested to know if this is a general problem, or I've just been unlucky!
UPDATE 28/2/07: I am now the proud owner of a Mongoose Teocali Super 2006. Well sort of anyway... It's a black super frame, but with all my Comp bits on it! Hotwheels (the Mongoose importers in the UK) made no fuss about replacing it. Pauls Cycles recieved my broken frame on the Thursday and I had a new bike the following Tuesday. Unfortunately it had been dropped during shipping however, which had bent one of the rear drop outs, so I had to send the back end of it back again, however we got there in the end!
UPDATE 16/04/08: The Super frame has died as well in exactly the same way! This time it's been replaced (again under warranty - thank you hotwheels!) with a 2007 frame which is redesigned, so hopefully won't break this time :-)
If you are Teocali owner, then you may also be interested in this article about the bottom linkage.
BLATANT PLUG: If you're reading this page, then you must be a mountain biker, in which case my other website, http://www.mtbroutefinder.co.uk might interest you... check it out!