FoggyLog
Fri Dec 26th 2008 15:16:28: Mongoose Teocali Bottom Link Repair
The small linkage on the Mongoose Teocali near the bottom bracket unfortunately does not use sealed bearings. This means that however well you keep it greased the bearings soon go rusty and seize. After (almost) 3 years I've had 2 new linkages under warranty (due to frames breaking) and now the latest one is dead as well.
The first thing I did was check with a bike shop to find out how much a replacement part is. For the aluminium part plus bearings/bolts etc, they wanted £60! Knowing full well that it would only last a year, I decided it was worth speaking to some friends with workshop facilities to see if they could help.
The old bearings just push out of the linkage using a fly press and a suitable lump of metal. This leaves you with the linkage: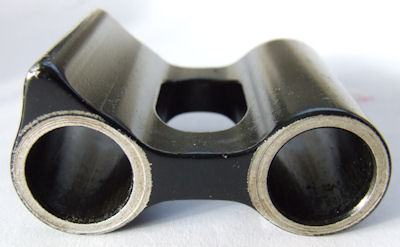 and a pile of rusty bolts and bearings:
The bearing surface is the "tube" which then slides over the long bolt. In my case the surface of the tube was deeply pitted and the bearing was no longer rotating which meant the tube was rotating on the bolt.
The repair solution we came up with was to machine a Peek 450G bush that pushed into the linkage: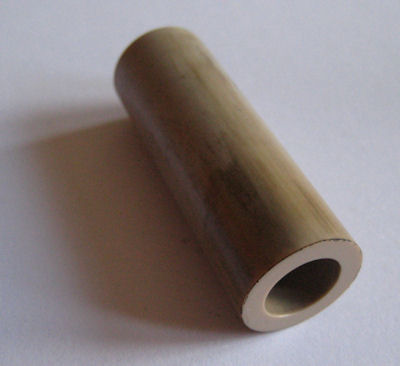 We then cleaned up the bolt's surface and it all assembled together as follows: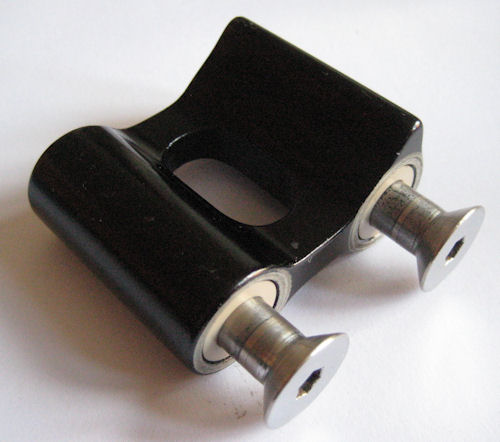 This solution is currently undergoing long term testing.... so far so good!
UPDATE - 9/7/09 I've now been riding my Teocali with this modified linkage for well over 6 months and there is still no sign of wear on it. This repair has also been done for about a dozen other bikes and everyone seems very happy (see comments below and here). Therefore I'm happy to offer a manufacturing service for these bushes - just send me your linkage (with or without bearings) along with the two long bolts and I'll get a custom bush made up for your bike. The charge for this service is £35 including return postage etc. Email me for my address and more details.
UPDATE - 26/8/10 We've now had a look at a 2008 Teocali linkage and these cannot be helped by our fix. They have done away with the bearings (sensibly!) and now use an anodised aluminium surface as the moving interface with the bolt. This is basically the same as our peek solution and should be very reliable. The only suggestion we have is to lubricate it with Copaslip as this will ensure the linkage does not seize up and water does not get in. We are of course still repairing linkages from 2005/06/07 bikes.