FoggyLog
Sun Sep 29th 2019 22:07:02: Synology NAS VERY slow to verify drives and data scrubb (Solved)
I just migrated from a DS1815+ to a DS1819+ and my 14Tb SHR2 volume needed Data Scrubbing and verifying.
This process was happening very slowly.... By my maths it was going to take 50 days to complete (4% in 48 hours). I tried disabling Surveillance Station but that made no difference. Then I noticed that I had a Hyperbackup backup running as well which was taking ages. I stopped all backups and suddenly the verify process is making much better progress!
Tue Aug 6th 2019 19:11:00: Psion Software Downloads
Over the years I've had some emails asking if I still have the old Psion software for connecting a Psion to a PC.
Well here is what I have found lying around on my NAS drive. Dates must be the dates I downloaded them from somewhere. Please don't ask me what they all are - they are offered here without support :-)
If you have any nuggets of knowledge, please make a comment below!
Mon Apr 1st 2019 22:18:00: Attaching Dyson to Bosch PSM 100 Sander
I've been trying to work out how to attach a Dyson Vacuum cleaner in place of the dust box on a Bosch PSM 100 Sander. There does not seem to be an accessory from Bosch to help with this in a cost effective way. However after a bit of googling I have found a solution!
All you need is a Washing Machine Drain Hose and a bit of plumbing. I used Screwfix "Washing Machine Drain Hose 2.5m x 21mm", a "FloPlast Hose Connector" and a Right angle bit of pipe that I already had.
The large end of the Hose attaches to the 29mm (OD) pipe out the back of the sander. This matches the ID of the hose perfectly. Then use the plumbing fittings plus a bit of parcel tape to attach to the Dyson.
I was sanding down plaster board in preparation for painting so it generated a lot of fine dust. With the Dyson attached most, but not all, the dust was caught. Much less tidying up!
Wed Nov 22nd 2017 14:27:04: Bike Tape / Heli Tape / Copter Tape Review
I thought the internet could do with a review of helicopter tapes available for bikes as the information I could find when in the market for heli tape was a bit patchy and on old forum posts.
Biketape (Bike Tart)
I've used this before in small areas on my mountain bikes. It is thicker than the Rhino Hide stuff, nice and robust and forms around shapes with the application of heat extremely well. It also sticks really well - it has seen all weathers and rubs and is still stuck down as well as the day I applied it.
I would be happy to use this stuff in future.
Rhino Hide (Paragon Tapes)
Cheaper option. I used the matte version for my commuting bike and covered most of the paintwork to protect it whilst going on and off trains. It comes in wide and long lengths which is good for covering a complete bike and whole tubes. It is thinner than the bike tart tape. Is quite sensitive to heat and either forms well or melts, depending on how hot you go. I was very disappointed with the forming and sticking. Without heat it will straighten itself out when applied to a curved surface after a few hours and come unstuck?. With heat it sticks a bit better, but has still come a bit unstuck at the edges despite my best efforts.
To avoid bubbles you need to stick it in one place and push it down from there. Otherwise you trap air and have lots of bubbles that are impossible to remove.
I would not use this tape again.
Just Riding Along Copter Tape (JRA)
I've not tried this one. If you have please comment below!
3M 8671 tape
Forums suggest this is good stuff, however I've not tried it. Available via selfadhesive.co.uk, Tweaks and ebay (although i'd be worried there is no guarantee the stuff on ebay is the real deal).
Convertape
I've not tried this one. If you have please comment below!
Mon Jun 6th 2016 21:25:07: Isofix in a Mk3 Ford Mondeo
At face value the Mk3 Ford Mondeo does not "have" Isofix. But that is not true!
It turns out the Isofix loops are part of the rear seats, but they are covered by the fabric. If you feel along the underside of the seat back you will feel the loops. All you need is a sharp knife to cut the stitching of the fabric in the right places and push the padding and fabric upwards and the isofix loops will pop out. You can then (with a little faff due to the fabric getting in the way) click an Isofix base in place.
One bog standard Mk3 Mondeo: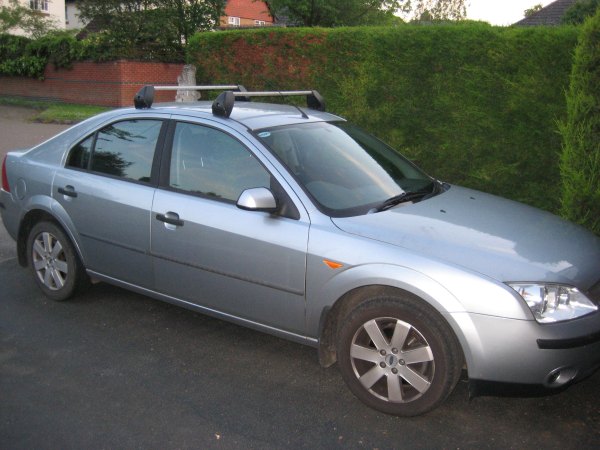 Cut the stitching and lift, and here is an Isofix loop (passenger side, near the door):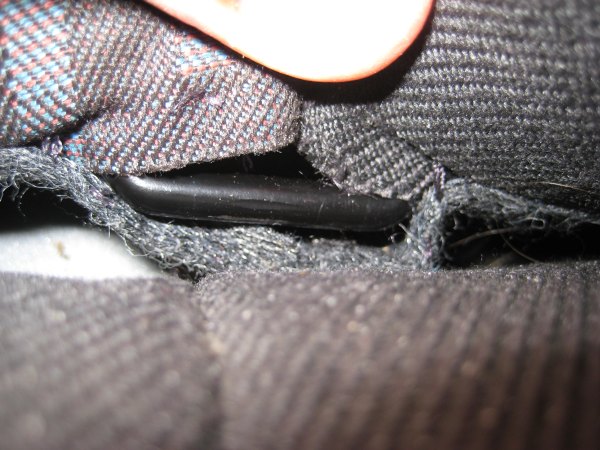 and the other (passenger side just to the door side of the seat belt socket):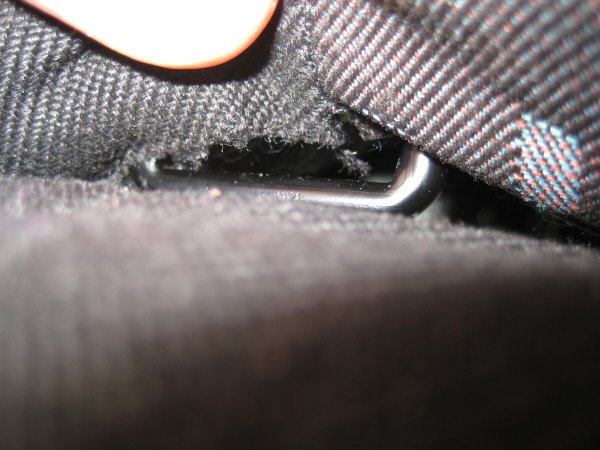 Isofix base installed to the ISOFix points (yes I know the foot is showing red ;-)!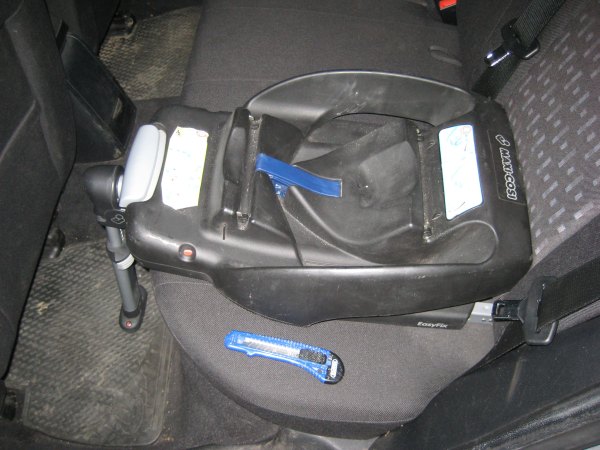 UPDATE 26/3/18
Danny has contacted me to say he has been in touch with Ford Technical about this and sent me a copy of a letter from them confirming that all Mondeos after 2001 were fitted with these hidden ISOFix attachment points: