FoggyLog
Mon Apr 1st 2019 22:18:00: Attaching Dyson to Bosch PSM 100 Sander
I've been trying to work out how to attach a Dyson Vacuum cleaner in place of the dust box on a Bosch PSM 100 Sander. There does not seem to be an accessory from Bosch to help with this in a cost effective way. However after a bit of googling I have found a solution!
All you need is a Washing Machine Drain Hose and a bit of plumbing. I used Screwfix "Washing Machine Drain Hose 2.5m x 21mm", a "FloPlast Hose Connector" and a Right angle bit of pipe that I already had.
The large end of the Hose attaches to the 29mm (OD) pipe out the back of the sander. This matches the ID of the hose perfectly. Then use the plumbing fittings plus a bit of parcel tape to attach to the Dyson.
I was sanding down plaster board in preparation for painting so it generated a lot of fine dust. With the Dyson attached most, but not all, the dust was caught. Much less tidying up!
Wed Nov 22nd 2017 14:27:04: Bike Tape / Heli Tape / Copter Tape Review
I thought the internet could do with a review of helicopter tapes available for bikes as the information I could find when in the market for heli tape was a bit patchy and on old forum posts.
Biketape (Bike Tart)
I've used this before in small areas on my mountain bikes. It is thicker than the Rhino Hide stuff, nice and robust and forms around shapes with the application of heat extremely well. It also sticks really well - it has seen all weathers and rubs and is still stuck down as well as the day I applied it.
I would be happy to use this stuff in future.
Rhino Hide (Paragon Tapes)
Cheaper option. I used the matte version for my commuting bike and covered most of the paintwork to protect it whilst going on and off trains. It comes in wide and long lengths which is good for covering a complete bike and whole tubes. It is thinner than the bike tart tape. Is quite sensitive to heat and either forms well or melts, depending on how hot you go. I was very disappointed with the forming and sticking. Without heat it will straighten itself out when applied to a curved surface after a few hours and come unstuck?. With heat it sticks a bit better, but has still come a bit unstuck at the edges despite my best efforts.
To avoid bubbles you need to stick it in one place and push it down from there. Otherwise you trap air and have lots of bubbles that are impossible to remove.
I would not use this tape again.
Just Riding Along Copter Tape (JRA)
I've not tried this one. If you have please comment below!
3M 8671 tape
Forums suggest this is good stuff, however I've not tried it. Available via selfadhesive.co.uk, Tweaks and ebay (although i'd be worried there is no guarantee the stuff on ebay is the real deal).
Convertape
I've not tried this one. If you have please comment below!
Mon Jun 6th 2016 21:25:07: Isofix in a Mk3 Ford Mondeo
At face value the Mk3 Ford Mondeo does not "have" Isofix. But that is not true!
It turns out the Isofix loops are part of the rear seats, but they are covered by the fabric. If you feel along the underside of the seat back you will feel the loops. All you need is a sharp knife to cut the stitching of the fabric in the right places and push the padding and fabric upwards and the isofix loops will pop out. You can then (with a little faff due to the fabric getting in the way) click an Isofix base in place.
One bog standard Mk3 Mondeo: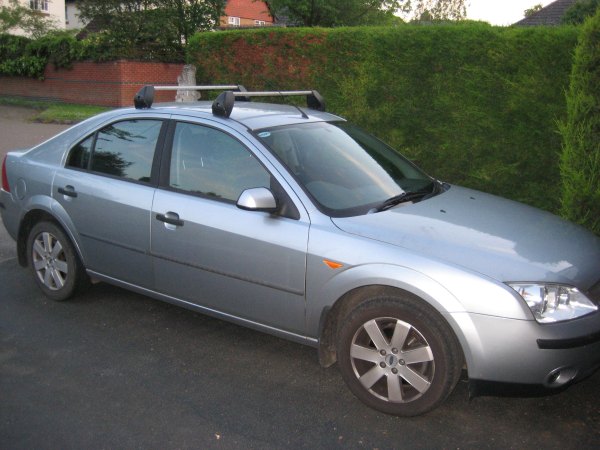 Cut the stitching and lift, and here is an Isofix loop (passenger side, near the door):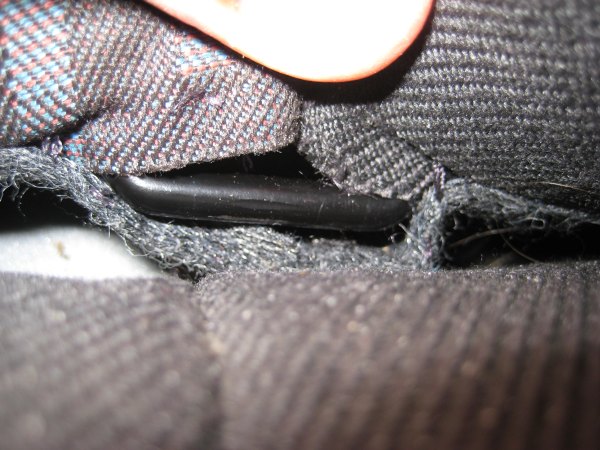 and the other (passenger side just to the door side of the seat belt socket):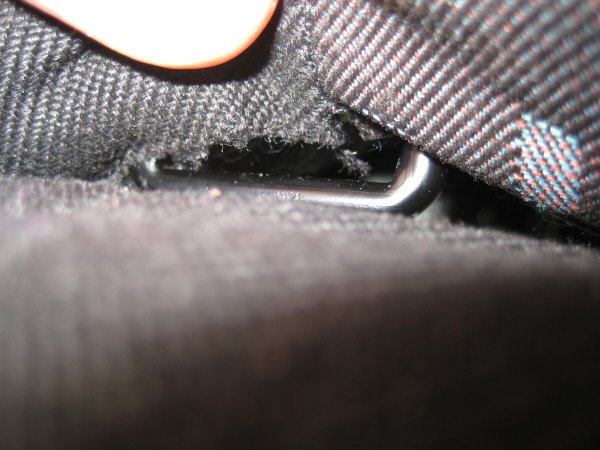 Isofix base installed to the ISOFix points (yes I know the foot is showing red ;-)!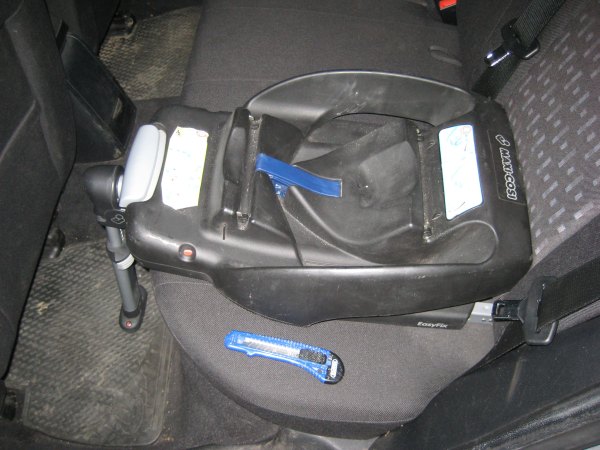 UPDATE 26/3/18
Danny has contacted me to say he has been in touch with Ford Technical about this and sent me a copy of a letter from them confirming that all Mondeos after 2001 were fitted with these hidden ISOFix attachment points: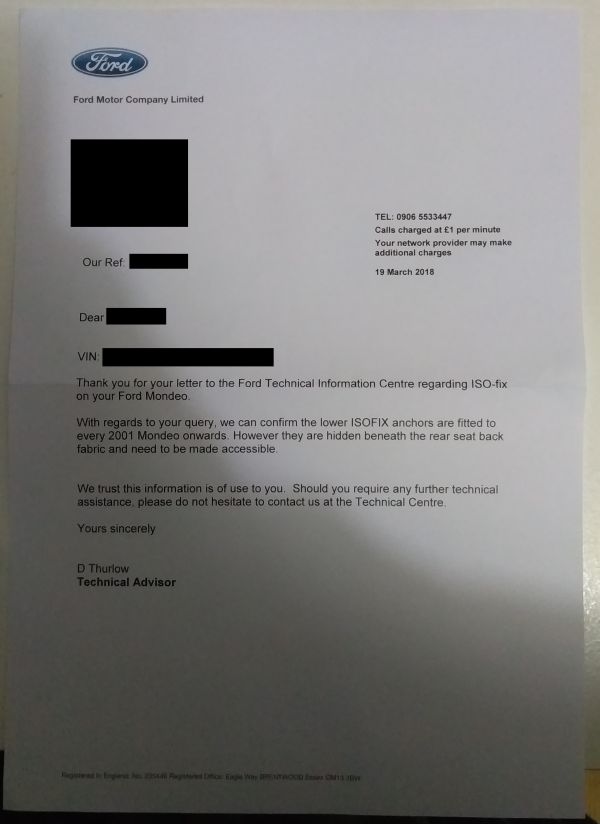 Mon May 16th 2016 15:24:00: Solved! Blackberry Passport - Proximity and Light Sensors 'unavailable'
I've had my Blackberry Passport for over a year now and when it was a few months old I became aware of it was intermittently being a bit odd - it would take ages to wake up when I pressed the power button, it would turn the screen brightness up to maximum (even in the dark), it would not turn on the keyboard backlight in the dark and I would keep pressing buttons with my ear during phone calls. Eventually (with the help of the BBVE handset testing app) I discovered this was because the proximity and light sensors were not working.
I hoped it was a software issue, however the 10.3 software update did not fix it. Therefore I returned the phone under warranty. A few weeks later it came back all fixed.
However last month I had a little incident with a concrete floor and smashed the screen. Therefore I purchased a new screen from Hong Kong and fitted it myself (thus voiding the warranty). After that everything still worked perfectly and I'd learnt a lot about taking the phone apart.
On Saturday I took the phone mountain biking for the first time in a long time. I was a very rough ride with some fast rocky descents and when I got back I discovered that the sensor issue was back! Therefore I am now convinced the sensor issue is caused by vibration.
I took the phone apart again last night and found the sensors in question are connected to the main circuit board with some spring loaded connections. Initially I thought it might be because the screws holding the PCB down were not tight, however that did not solve the problem.
Therefore a few days later I took it apart again (remove the back cover) and noticed that the main PCB was "wonky" as it is not constrained perfectly and can move by a fraction of a mm. Therefore I slightly loosened off all the screws that hold it down and moved it until the screw hole in the middle at the top was lined up with the thread below. I tightened up the screws and reassembled and so far this seems have solved the problem.
Please let me know in the comments below if that fixes the problem for you!
Sat Apr 2nd 2016 11:16:00: Top Grass... Questionable Marketing?
Yesterday I received a letter from a company called "TopGrass Professional Lawn Treatment".
Their letter felt very... 'local'. They started with "I am writing to inform you about Top Grass, a local, independent professional lawn treatment service that has opened a new branch in your area". That does come across very local to me. But then I smelt a rat... seemed too good to be true?
So I googled their address. 23 King Street, Cambridge. Oh. So their office is in Mailboxes Etc? I guess by "opening a new branch", they meant "opening a new postal forwarding account with Mailboxes etc"!
Their phone number is also odd, as according to google it is connected with Campbell Chishti & Co Accountants in Cambridge and Cruising Motorcycle Tours, as well as Top Grass.
The only thing that I know for certain is that the company is owned by Tom Arnold and based in Essex. I wonder if I called the Cambridge office whether I'd end up dealing with someone in Essex?
All very odd and a bit too keen to come across as local in my opinion!